1.1.3. The meaning of the present tense
As mentioned above, the present tense has the four usages. Although it has the four, actually the meaning is only one. The four is derived from the one meaning. This meaning is considered here.

(12)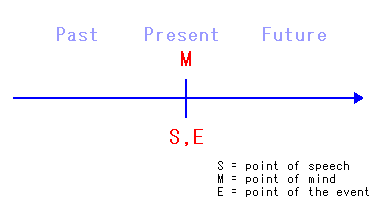 The above is the figure of the present tense and the three points are put at the present.

M is usually subordinate to time adverbials. The time adverbials are put as the speaker has a certain time point in mind, that is, the speaker's focus and feeling. (It is explained in the next chapter.)
The examples of the present tense in the text do not have the time adverbials much, but the speaker implicates the present time in mind.
Thus M of the present means the speaker treats the event as the present fact. This is the meaning of the present tense and the four usages are derived from it.