6.2.4. The temporariness of the active verb
The progressive form also means temporary. The present progressive form (PrPro) is shown below.

(17)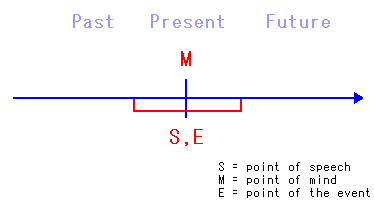 As mentioned above, the other time line on E expresses the duration, that is to say, it restricts the time of the event. See the following examples.

(18)
a. She reads novels.
b. She is reading novels these days.

(18a) uses the present form and means the habitualness which she reads every day. But (18b) means the temporary habitualness.

(19)
a. She goes to work on her bicycle.
b. She is going to work on her bicycle.

(19a) also means the habitualness which she uses the bicycle every day. But (19b) means she uses the bicycle temporary and she usually uses her car or a bus. In the case of this, the reason why she uses the bicycle is taken as the car does not work or the bus does not come by a strike.
There are derived from the meaning which the speaker pays attention to the act itself. (*25)


*25
If the utterance is made while riding the bicycle, it merely expresses the actual act.

I am going to work on my bicycle.



See the following examples.

(20)
a. When I was a kid, I always played baseball with my friends.
b. When I was a kid, I was always playing baseball with my friends.

(20b) uses the past progressive form (PaPro) and means the past habitualness but not means temporary since "always" is used. Therefore, the two example meanings are similar, but the act of (20b) is paid attention.

Now, the progressive form and "always" can express the speaker's irritation. This is explained in 6.4.2.