4.4. The exceptional future expression
4.4.1. Will and shall with the progressive form representing the event as a matter of course
The progressive form of "will" and "shall" expresses not only the future durative act but also the event as a mater of course. See the following examples.

(29)
a. My son will be coming to see me today.
b. The train will be arriving at eleven o'clock.
c. John will be driving to London tomorrow.

The above is similar to the meaning of the agreement, and the events to occur do not depend on the speaker's intention.

But it is sometimes obscure, for example, (29c) is also interpreted to the durative act.

(30)
John will be driving to London tomorrow.
a. He has the plan to London tomorrow. (the matter of course)
b. He might be on the way to London tomorrow. (the durative act)


Moreover, this usage is parallel to the far future in view of the form, but actually to the near future on the meaning. See the following figure.

(31)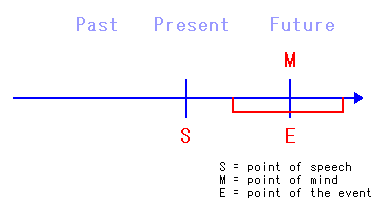 It is the future progressive form. The next figure is this usage.

(32)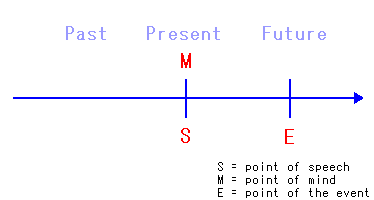 It is equal to the near future. M is put at the present since the cause or the plan is there and the focus is put there.
Therefore, this can sometimes be changed into the present progressive form representing the future. See the following examples.

(33)
a. The train will be arriving at eleven o'clock.
b. The train is arriving at eleven o'clock.

The meanings are similar and they do not mean the durative act.