4.2.2. The present progressive form representing the future expression
The present progressive form (PrPro) might be thought to express a durative act usually, but it is a part of the progressive form. This PrPro means an agreement. See the following examples.

(7)
a. I'm having several people for dinner.
b. I'm bringing the apple pie to my aunt.
c. My parents are staying with me.

The three might be a deterministic future but they can be changed. See the following figure of this expression.

(8)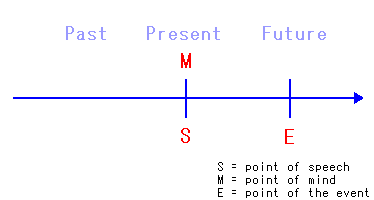 The above is the same as the present tense representing the future, but the meanings are not the same. M of the present does not mean the present fact, it means the present cause or plan which the speaker has in mind. See the following examples.

(9)
a. The train is arriving at Sendai.
b. Is anyone else coming today?
c. She is leaving Japan tomorrow.
d. We are playing next Saturday.

There are causes or plans in each examples, thus, this expression does not usually express the remote future event. Therefore, the co-occurrence of the adverbs depends on the speaker. Even if they are not co-occurred, s/he implicates the near future.

Moreover, M is not shifted to the future although those adverbs are co-occurred, and then the focus is put there strongly. (*18)


*18
The remote future time adverbs can be co-occurred. See the following example.

When I grow up, I'm joining the police force.
(Leech:1987)

"When I grow up" is the remote future. But to use such a adverb, the cause or the plan needs in the present. The above can not be used if the speaker's intention is not in the present.