3. The left time 2
3.1. The fundamental usage of the present perfect form
It is explained about the past tense in the previous chapter. This chapter explains the present perfect form which is sometimes difficult to use properly.


3.1.1. The time representation of the present perfect form
The present perfect form (PrPF) expresses the past event like the past tense. But it reflects on the present. See the following figure of PrPF.

(1)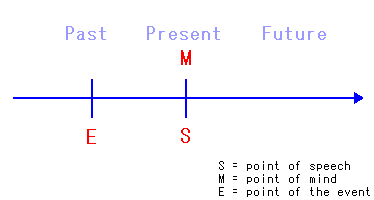 S is naturally put at the present and E is put at the past because of the past event. M is put at the present unlike the past tense. It does not mean the separation form the present. The speaker's mind is remained in it.